Cela faisait un petit moment que des rumeurs circulaient sur le lancement d'un Facebook Phone doté de son propre système d'exploitation.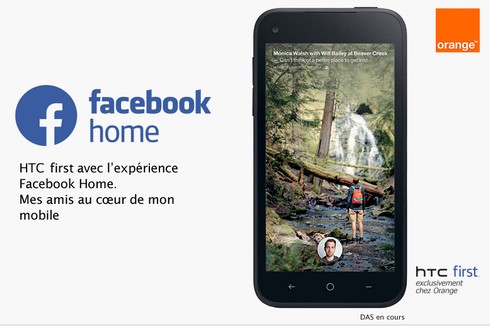 Je me souviens l'année dernière au moment de l'introduction en bourse de Facebook et sa valorisation délirante à plus de 100 milliards de dollars, on spéculait même sur le fait que Facebook pourrait faire une OPA sur RIM (constructeur du Blackberry) pour jouer dans la même cour que Apple et Google qui sont à la fois constructeur de hardware (iPhone, Motorola) et de softwares (IOS, Android).

Le 1er Facebook phone sera en fait un mobile Android 4G !

En allant  sur la page facebook.com/home, on apprend que Facebook s'est finalement appuyé sur le système d'exploitation Android (customisé avec un launcher Facebook Home) et sur du hardware HTC pour proposer HTC First, son premier Facebook phone.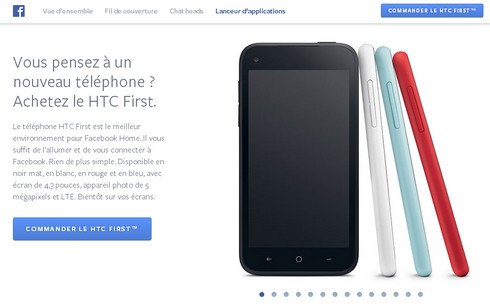 Le HTC First sera commercialisé aux USA au prix de 99 $ avec un abonnement AT&T, sera comptatbile 4G (LTE), et sera disponible en exclusivité en France cet été chez Orange (meilleur réseau 4G)

Comment profiter du Facebook phone tout de suite ?

Si vous avez la chance d'avoir l'un de ces 4 smartphones  :
HTC One X,
HTC One X+,
Samsung Galaxy S III
Samsung Galaxy Note II
Vous pouvez en profiter tout de suite en téléchargeant et en installant l'application officielle Facebook Home depuis Google play.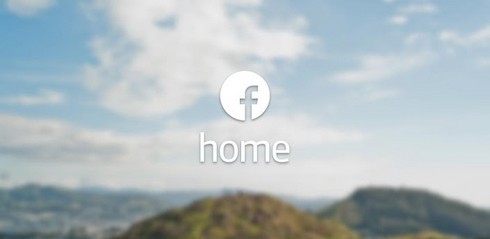 N'oubliez pas d'installer aussi Facebook et Facebook Messenger

Et si vous avez un autre téléphone Android ?

Ah ! Vous êtes dans le même cas que moi !  Si vous essayez d'installer l'appli officielle, vous aurez droit à ce message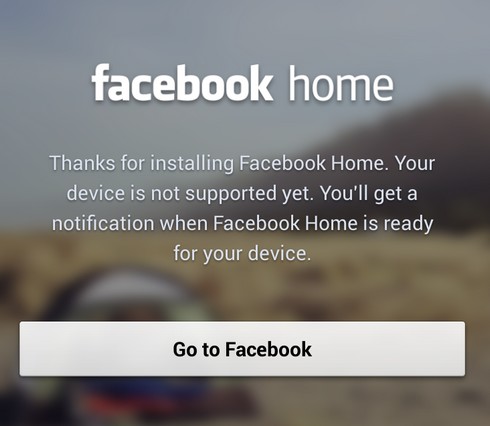 C'est assez frustrant d'avoir le dernier Nexus 4 et ne pas pouvoir profiter de Facebook Home, vous ne trouvez pas ?  Heureusement, Paul O'Brien, le boss du site Modaco (les pros du Hack Android et Windows Phone), a patché les APK officiels pour qu'ils ne fassent plus  les contrôles de routine sur la nature du terminal utilisé.

Facebook a en effet volontairement  bridé son application pour qu'elle ne fonctionne que sur 5 terminaux Android. Est-ce qu'il y a derrière une histoire de compatibilité technique ou d'exclusivité avec HTC et Samsung… Mystère total !

Pour profiter de Facebook Home sur votre Nexus 4 ou sur un autre téléphone Android, vous devrez donc désinstaller toutes vos apps Facebook officielles et installer les applis patchées à la place :
Facebook main app (katana) –

DOWNLOAD

(ROMraid),

the patched Messenger app (orca) –

DOWNLOAD

(ROMraid)

the patched Home app –

DOWNLOAD

(ROMraid).


Vous regarderez bien une petite démo ?

Voilà comment fonctionne Facebook Home sur mon Nexus 4.



Vous aurez remarqué que Facebook Home remplace le lanceur officiel d'applications. C'est plutôt sympa comme approche (centré sur l'utilisateur) et interface (larges visuels au lieu de petites apps), ça me rappelle l'appli Flipboard avec moins d'ouverture sur les autres réseaux sociaux.

Quid des autres launchers ?

Ce qui serait intéressant maintenant, c'est que d'autres éditeurs se lancent aussi dans le développement de launchers Android de qualité… Aujourd'hui, en terme de choix d'interface et d'interactions, l'offre est assez limitée :
ADWLauncher,

GO Launcher,

Launcher Pro,

Regina 3D Launcher,

Crazy Home,

Zeam Launcher
Plutôt que d'aller pleurer chez Fleur Pellerin pour dire que Apple est un écosystème fermé, de payer des agences des dizaines de milliers d'euros pour développer des pauvres applis iPhone qui ne seront utilisées qu'une fois sur 20 % des mobiles,  ou de réclamer tous les ans à Google le beurre et l'argent du beurre, nos éditeurs français ne devraient-ils pas  mutualiser / canaliser toute leur énergie  pour aller inonder Google play de launchers Android innovants ?